We finally had the chance to play the very first Earthquake League "Shake" last December in Chile. This post tells the story of how we came up with the idea, and also what happened in the tournament.
Some History
My name is Nicolas, I'm Chilean but moved to San Francisco CA with my wife about five years ago. For several reasons I never really connected with the Chilean MTG community while I lived there (30 years!). I mostly played Vintage (which I stopped doing because no one else played) so after briefly quitting the game and selling off my Vintage collection (nice move…) I kept playing magic using MTGO. I focused in Eternal Formats and did a ton of drafting. It was in MTGO where I happened to meet a Chilean player, Luis Andres Navas. Just before I was moving out to San Francisco back in 2014, Andres needed an extra player for a draft that his playgroup was organizing. That event would eventually lead me to meet the players who would form the Earthquake League five years later.
The Duel
Earlier on this year I knew I was going to be in Chile in December for the holidays. Coincidentally, around the same time my -back then purely virtual friend- Jose Luis Echeverría, had started to collect older cards. I remember the moment pretty vividly, I had just bought my set of Beta Bolts and was totally hooked. Around the same time, Jose Luis had acquired some Beta cards, most importantly his first Beta Ironclaw Orcs, that led to some pretty strong unlimited and beta collecting. After a little while, he mentioned that his good friend Mario Zanolli was also collecting old cards and that they had an agreement for an Old School duel at some point close to the end of the year. I asked him if we could extend the duel into a triangle and if I could join, which kinda' worked! There was no date yet, but there was a tournament.
The League
Soon after, Luis started talking with several of his magic-playing friends and apparently, several of them were interested in playing Old School. I remember when it happened, Luis made a Whatsapp group with the seven of us. Everyone wanted to play Old School in a tournament at the end of the year, but things escalated quickly, suddenly people were building tier one decks (Looking at you Andres Hojman and Echeverria), and others were dealing Juzams and attending eternal weekend. Eventually I offered my IT services and said I wanted to build a website so that the group could be connected with the global eternal community. Around that same time, we all figured out that December was a great date for a first tournament given that it was the holidays and Nico and Thomas were going to be in Chile at the time.
The Tournament ("Shake 1")
Shake 1 was held on December 22nd, it was the first tournament that the league organized and it was fantastic. 8 people showed up (Mario had to cancel at the last minute). We played 6 rounds of swiss and then cut to a Top 4. There were several epic moments, like the Chaos Orb flip contest between our two guest players, Ignacio Parot and Andres Navas and the insanely long game between Andres Hojman and Ignacio. We had a great day of Barbeque and drinks, after the Old School action ended we kicked off a 10 people Premodern draft that was hilarious.
Prizes
Every player brought in a card that was then signed by everyone, stamped and drafted respecting the final standing order. Everyone got "Earthquake League" playmats that got signed by all the players as well, the 1st place playmat was signed 100% in gold sharpie and the second place was signed in silver. Finally, the winner became the proud owner a beautiful Earthquake Alter that reflects what has been going on in Chile since November (massive social unrest).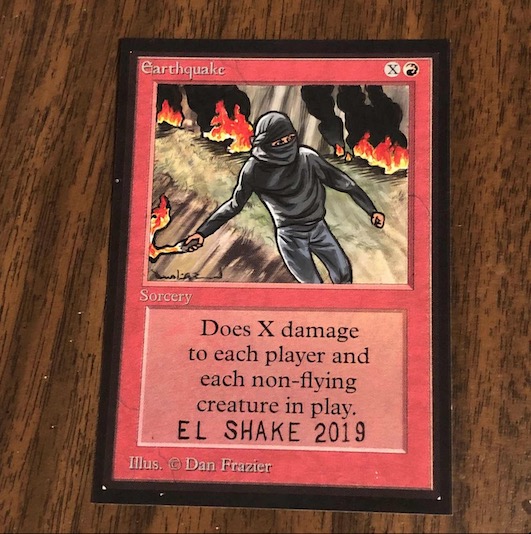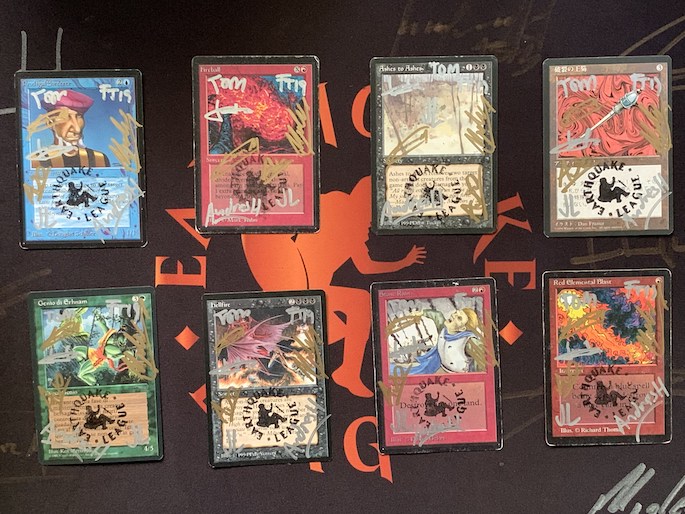 Results
Jose Luis Echeverria
Andres Hojman
Felipe Trazar
Thomas Sutherland
Nicolas Goles
Camilo
Andres Navas
Ignacio Parot
Decks
Sadly not everyone could submit pictures in time, but here's what I was able to put together.
Echeverría, DibTtog
Andres Hojman, The Deck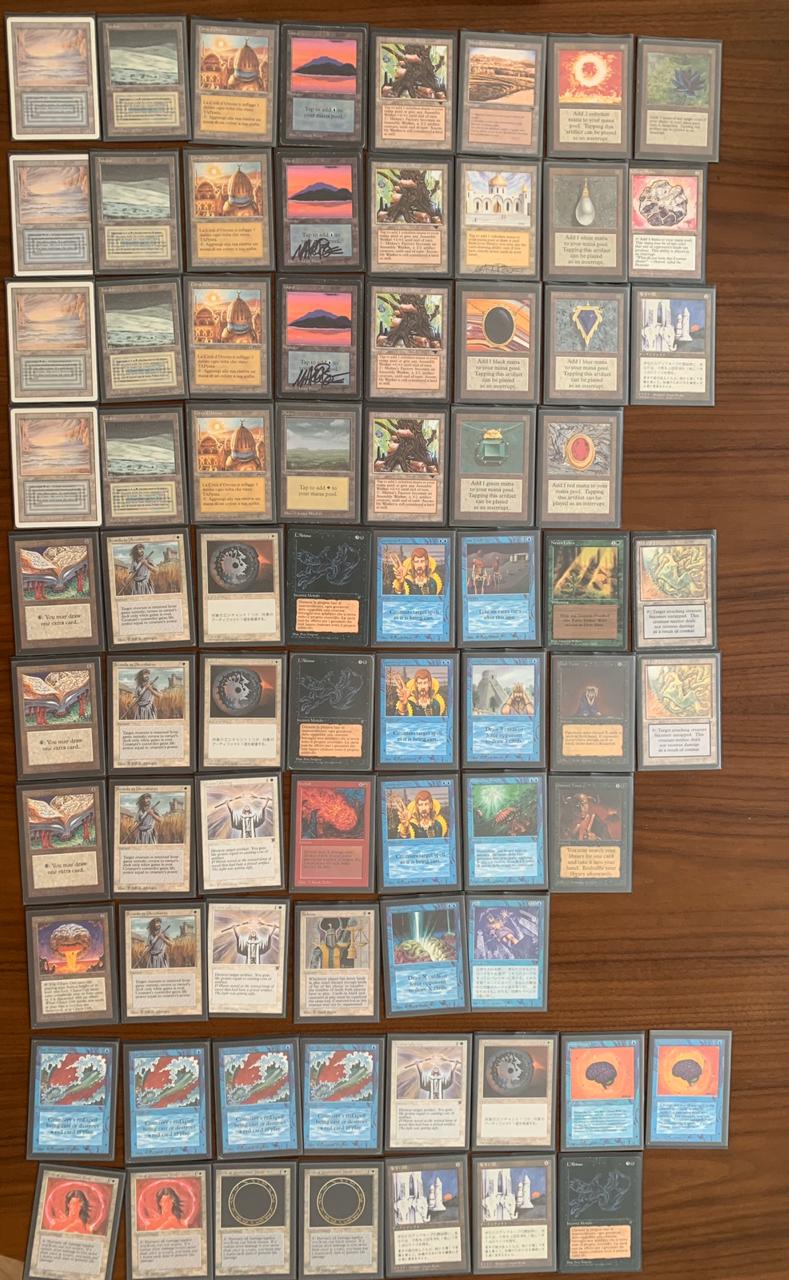 Felipe Trazar, RG Aggro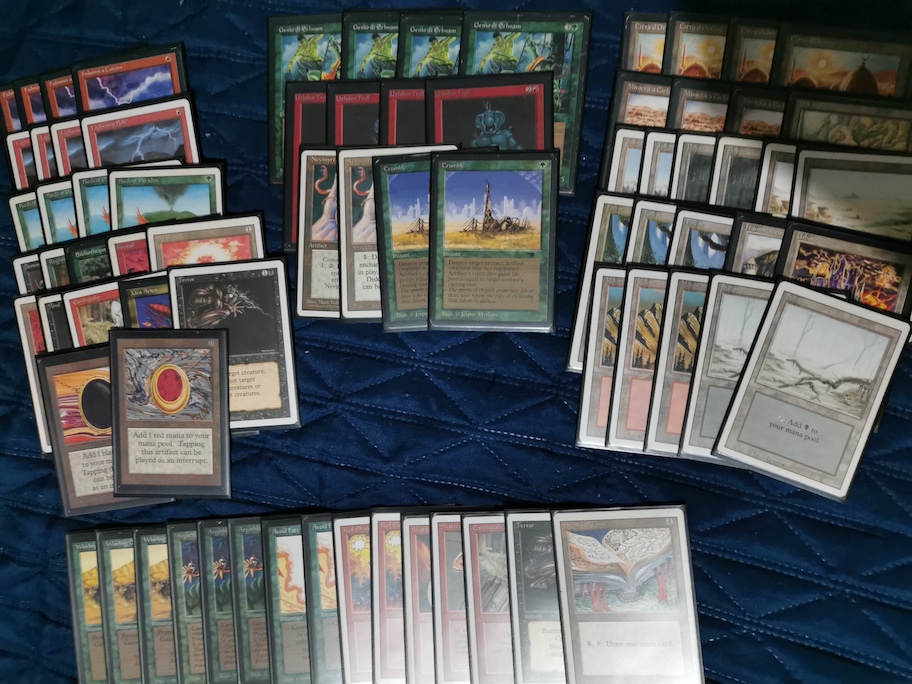 Thomas Chuto, Mono Black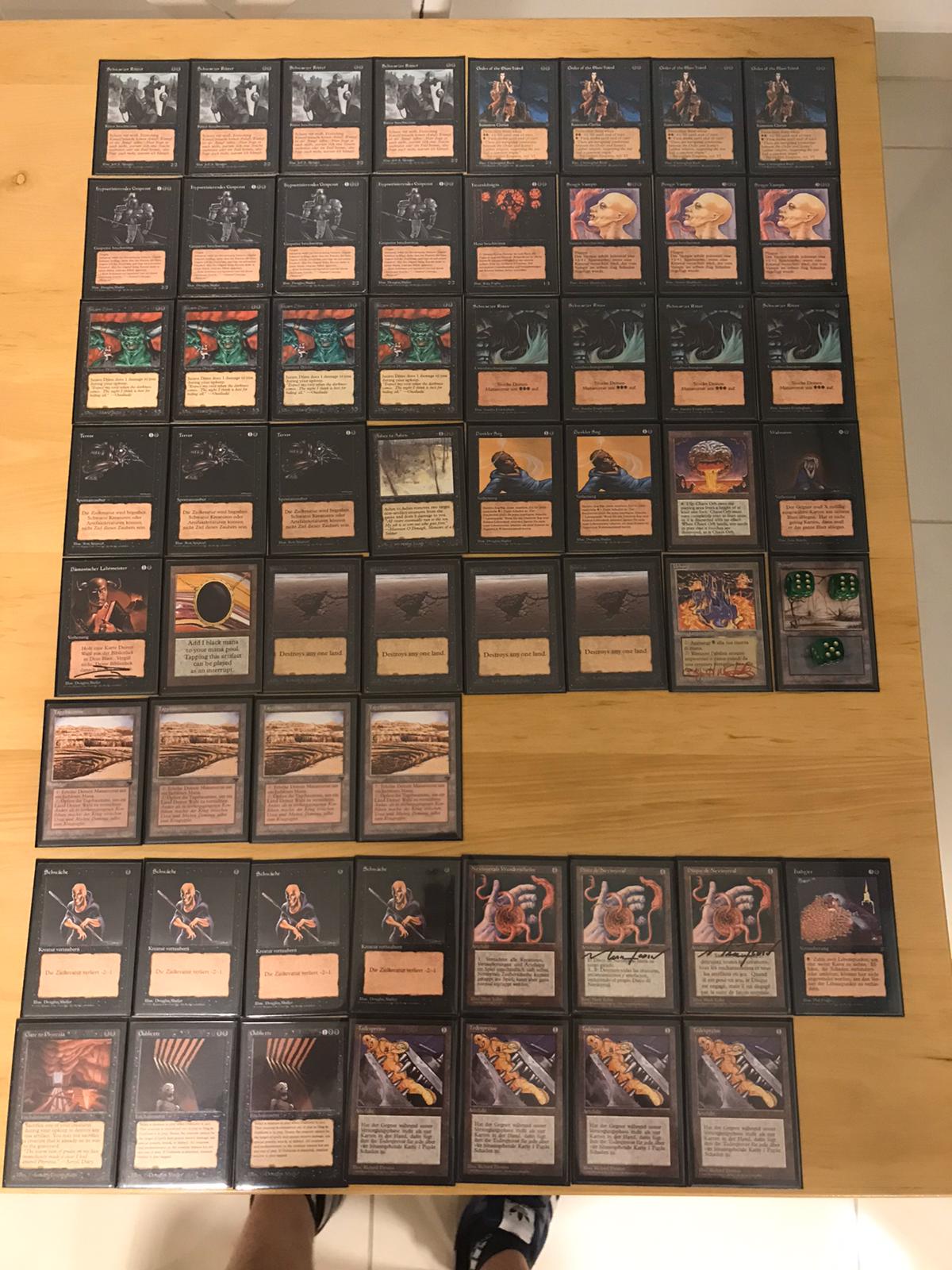 Nicolas Goles, Troll Rack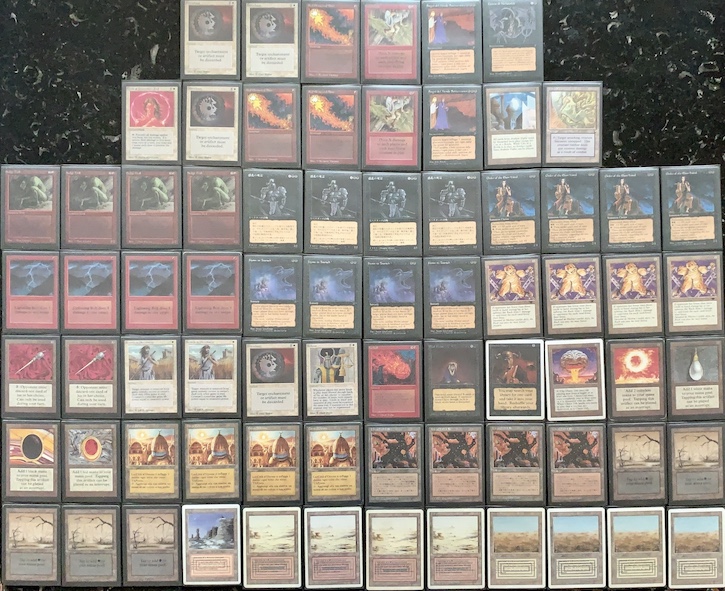 Camilo, RG Moon Aggro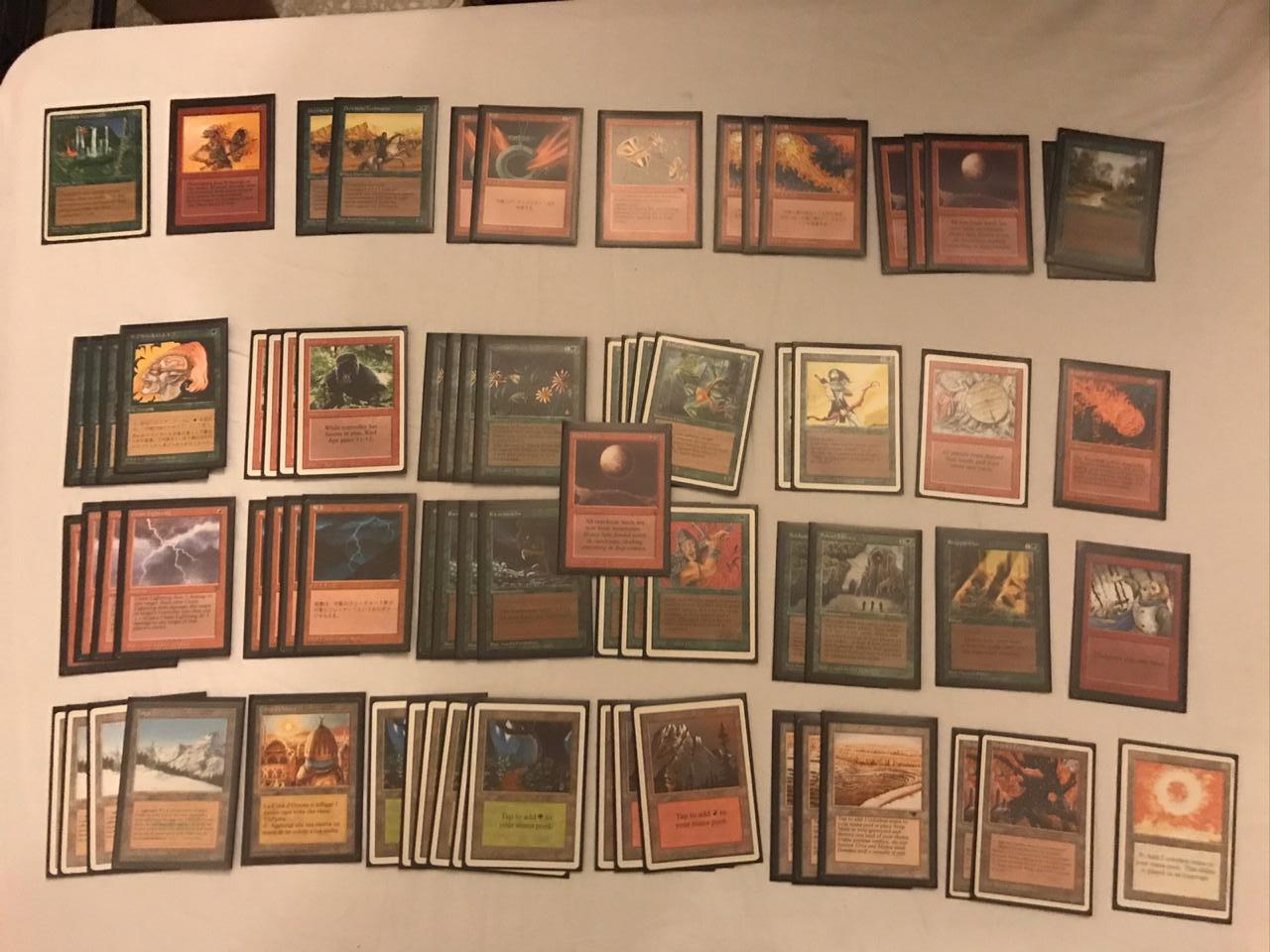 Andres Navas, Goblins
This one got lost in translation, marvelous piece of tech lost for ever.
Ignacio Parot, RW Land's Edge
… eaten by a Polar Kraken?
Tournament Pics